Ender 3 is hands down the most cost-effective and much-loved 3D printer in the market today. It enjoys a massive fan-following, and rightly so!
You can spend an eternity looking for better models in its price range, but Ender 3 will beat every one of them in terms of performance, 3D print quality, and customizability. There's simply no match for Ender 3 in its segment.
Well, that's until Creality, the Chinese manufacturer behind Ender 3, released Ender 3 Pro. Suddenly, things began to heat up. Ender 3 Pro featured some marked improvements over Ender 3 (which we'll discuss in a moment), and therefore, came with a marginally higher price point.
Not to be outdone by its own success, Creality rolled out Ender 3 V2, which the company has touted as a significant upgrade over both Ender 3 and Ender 3 Pro. Both Ender 3 Pro and Ender 3 V2 are priced in the sub-$300 category, while Ender 3 sits comfortably in the sub-$200 price point.
So, the question on every 3D printing enthusiast's mind is – are Ender 3 Pro and Ender 3 V2 worth the few extra bucks?
Let's find out by taking a closer look at each 3D printer.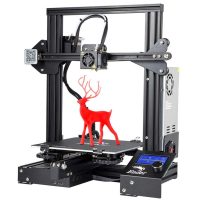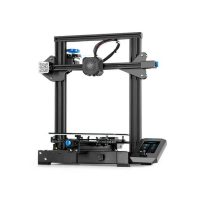 $5.40

$10.00
out of stock
Creality Ender 3
The original open-source 3D printer is still the favorite machine among 3D printing enthusiasts for several reasons. It comes partially assembled out of the box but requires a fair amount of assembly and set up before it's ready for use. Although it's pretty straightforward to assemble, it does take a lot of tinkering to get the calibration right. Thankfully, a thriving community of users offers excellent online resources – forums, videos, instructions, etc. – to help you do it correctly. An improved leveling knob makes the job a lot easier. Ender 3 features a build task-like heated build plate, power recovery mode, a tight filament pathway, and print volume of 8.6″ x 8.6″ x 9.8". the heated aluminum print bed offers convenient 3D printing of a variety of materials, including ABS, TPU, and PL, among others. If you are a beginner at 3D printing, then you cannot go wrong with Ender 3. Whenever you feel limited by its features, you can upgrade the respective parts cheaply and get way more out of this 3D printer than you'd from a higher-priced one.
Pros
The best value-for-money 3D printer
Good print volume
Relative high print accuracy – 100-micron max print resolution
Easy assembly
Compact design
Highly customizable, and there's a thriving market of cost-effective upgrades
Cons
Unstable base is prone to wobbles and requires frequent re-leveling
The build plate has print sticking issues
Messy cabling
Manual calibration, especially slicing, is required
Creality Ender 3 Pro
With Ender 3 Pro, Creality has demonstrated to its fans that they are listening! The manufacturer took the good old Ender 3, gave it the essential upgrades customers were demanding, and released it as Ender 3 Pro. And it works like a beast. The improved 3D printer features a fast-heating, textured magnetic printing bed. This improvement alone is loved by users. Unlike Ender 3's build plate, the one on Ender 3 Pro does not possess any sticking issues. So, users find it easy to print and remove their models safely. At 8.7" x 8.7" x 9.8", the Ender 3 Pro offers a larger build volume than its predecessor. The wider 40*40 aluminum extrusion provides greater stability, and the rubber feet reduce the operational noise significantly. All these improvements come at a price. Ender 3 Pro is significantly more challenging to set up and operate. The magnetic bed, in particular, doesn't snap into a position of your choice easily. This, in turn, may scrape on the Z-axis. The problem with the magnetic bed is that you have to go looking for a spatula every time you finish 3D printing and need to pluck your model off of the 3D printer.
Pros
Highly affordable (sub-$250 price)
Great build volume for its compact design
Impressive-quality prints for its price
Extensive upgrades available
Flexible printing surface
Resume after power outage function
Cons
Extensive fine-tuning required, especially with the belt, bed leveling, and slicing software
Noisy, despite rubber feet
Messy wires
Creality Ender 3 V2
Ender 3 V2 is widely considered to be the true successor of the aging Ender 3 3D printer. Same build volume, single hot end fed by a Bowden extruder, manual bed leveling, microSD and USB printing, and the ability to print several materials, including PLA, ABS, TPU, and PETG – the all-new Ender 3 V2 is every bit Ender 3 at its core. However, there are some changes. Fans of Ender 3 created a lot of noise around…well…the noise problem of Ender 3. What Creality couldn't fix with Ender 3 Pro they've done it with Ender 3 V2. A new noise-free mainboard and silent stepper motors have transformed this machine into a silent performer. The power supply has been moved to the back. All cabling is hidden from view to offer a professional look. But the most noticeable improvement is that the plastic frame and body have replaced the metal structure from the previous editions, vastly improving the machine's appeal. A textured glass bed, something that you would usually expect from a pricier model, offers a drastically improved 3D printing experience to users. Several nifty features like belt tensioners, a color display, a rotary knob on the extruder, and a hidden toolbox, have made Ender 3 V2 a marked improvement over its predecessors. Although Creality Ender 3 V2 is not perfect, it's the best thing available at its price.
Pros
Good print quality
Several improvements over Ender 3, which improve print quality and experience
Improved ease of use
Resume after power outage function
Significantly noise-free (50-decibel operation)
Highly customizable
Long-lasting and more convenient glass bed
Cons
A very recent model. So, modded parts availability could be a problem
Poor filament loading
Display not touch screen
The best Ender 3 series 3D printer for you depends on what matters to you in your 3D printer. If price is the most important criteria for you, then Ender 3 is inarguably the best choice.
However, if you can spare some more money, we strongly recommend that you upgrade to Creality Ender 3 V2. The V2 is everything a beginner or enthusiast would want from their 3D printer. Excellent print quality, ease of setup and use, plenty of tinkering options, and more reliable performance – they are definitely worth the extra price and you will feel it within the first few days of using it.
Ender 3 V2 is everything that Ender 3 fans want and what Ender 3 Pro should have been. Go for it.